Bin-It Moving Company
Moving is an overwhelming process for a lot of people. Finding the boxes, renting the truck, and getting your things moved from one location to the other all while. Here at Bin-It, we can help by providing the rentable moving boxes.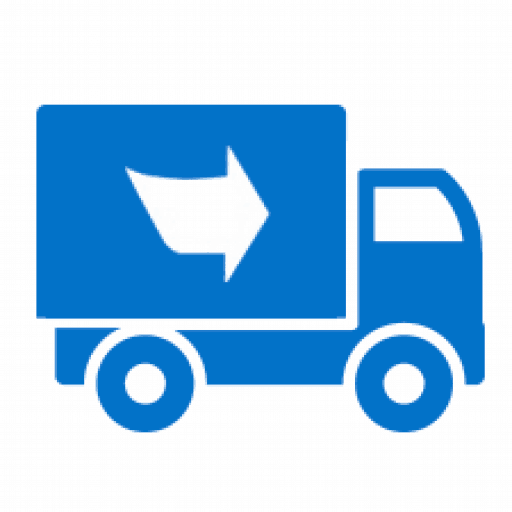 We Deliver
Delivered within 24-48 hours



YOU MOVE
The Easy, Stress-Free Process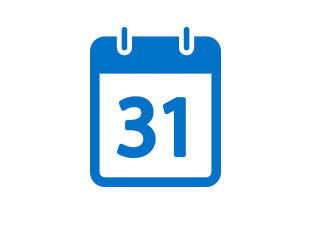 WE PICK UP
Keep Them For 2-4 Weeks
Cardboard moving boxes can come in a variety of sizes but don't always stack well. When you are transporting it is important to be able to pack and stack to get prepared for your big day. Our bins are both durable and heavy-duty that stack well for easy moving. It is easy to fill the bins and stack them up and out of the way while still living in the old place. Looking for moving bins in New York City?WHAT FITS IN OUR RENTABLE MOVING BINS?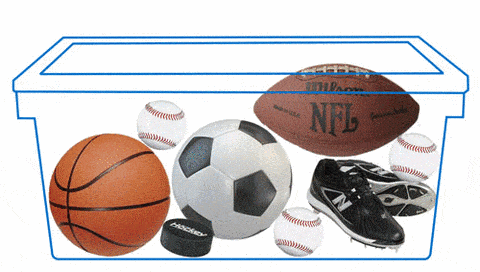 EACH BIN FITS
15 SWEATERS AND 5 WINTER JACKETS OR
12-15 PAIRS OF SHOES OR
48 BOOKS OR
15 PAIRS OF SHORTS & 30-40 T-SHIRTS OR
17,000 TOOTSIE ROLLS
Once you're ready for moving day, all the bins can be packed onto a moving truck with ease. This allows you to maximize the truck's space while offering protection to all of your personal belongings. They have handles on the ends that are easy to carry and lift.
What Makes Our Packages Better?
WITH BIN-IT YOU GET
AFFORDABLE PRICING
FREE DELIVERY & PICK-UP
ALL BINS SANITIZED AFTER EACH USE
DELIVERY/PICKUP TRACKING NOTIFICATIONS
SEE WHAT OUR CUSTOMERS ARE SAYING ABOUT US
This is a great service. The supplies I ordered were delivered and retrieved on time. They offer all of the materials you could need for your move and at fair prices. It was great not to need to tape boxes and then break them down after. I highly recommend bin-it.
Michelle Williamson
Posted onGoogle
The bins were a game changer for my moving process! Two weeks was the perfect amount of time – 1 week to pack, 1 week to unpack. Having a deadline on the bin pickup definitely expedited our own unpacking process. The dropoff & pickup processes were smooth and painless. I definitely appreciate any way to make a move more eco-friendly plus the boxes definitely protected our valuables/fragile items!
Brenda Di Bari
Posted onGoogle
My experience was overall positive. Delivery people were friendly, and the bins worked well for moving. The handles make them easier to move than cardboard boxes, though they are a little heavier. I got the 1-bedroom package, and it was the exact amount of bins I needed. The bins had a bit of an unpleasant odor, but appeared to be clean and functional. Prices are reasonable. Overall, I would use this service again.
Ashley Yu
Posted onGoogle
Love them! So easy to coordinate and helps motivate you to unpack. Their customer service is very polite and helpful.
Eileen Holland
Posted onGoogle
It's a great way to avoid wasting packing materials, and they had great service! Very flexible and easy to communicate with.
Karla Quintana
Posted onGoogle
I've used Bin It's services for two moves. Haven't had a bad experience. Business team and crew are pleasant and professional. They stick to their schedule and are always responsive to random questions at odd hours. Would highly recommend it for your move.
Yasmina Zaidman
Posted onGoogle
Highly recommend Bin It. From the ease of booking online to how quick they responded my texts, I have found the entire experience really seamless, and felt a bit better for not wasting cardboard boxes and tape. 🙂
Joaquim Moraes
Posted onGoogle
Effective Way of Moving
If you are looking for a safe and effective way to get all of your things packed and ready for moving day, we have you covered. We offer unique packages for you to choose from, which is based on the size of your home and the number of bedrooms. Our bins come with free delivery and pick up.
If you are looking for an affordable way to move, you can count on Bin-It to be apart of that process. Rent bins that are made for moving. Our moving bins for rent offer people a chance to really get ahead on packing! Stack one or two or stack 5-6 and move with a dolly with ease. And, there is no rushing around and being unorganized. Label the bins for easy unpacking when you arrive at your destination.
TAKE A PICTURE

WITH

YOUR BINS IN ACTION & EMAIL IT

TO CREW@BIN-IT.COM FOR A CHANCE TO WIN!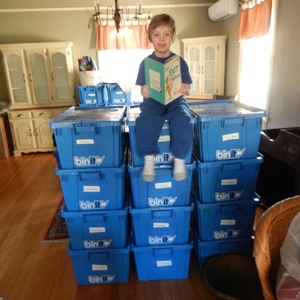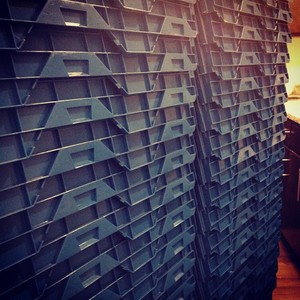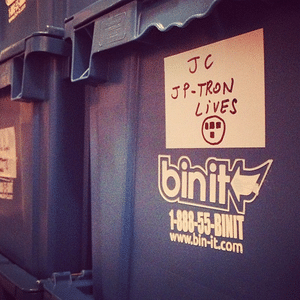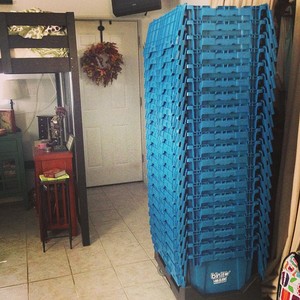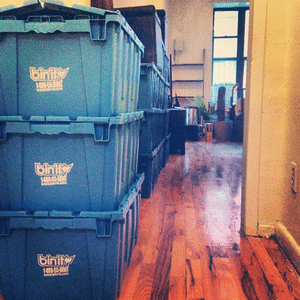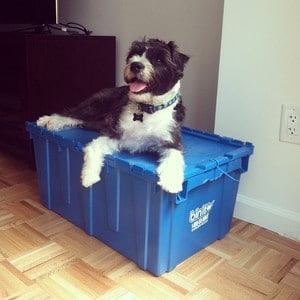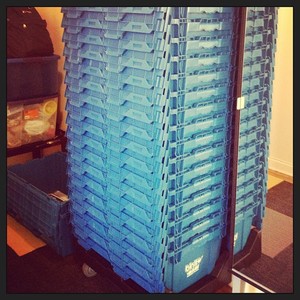 TAG YOUR PICS WITH #BINIT FOR A CHANCE TO WIN A FREE $10 AMAZON GIFT CARD!
As Seen In…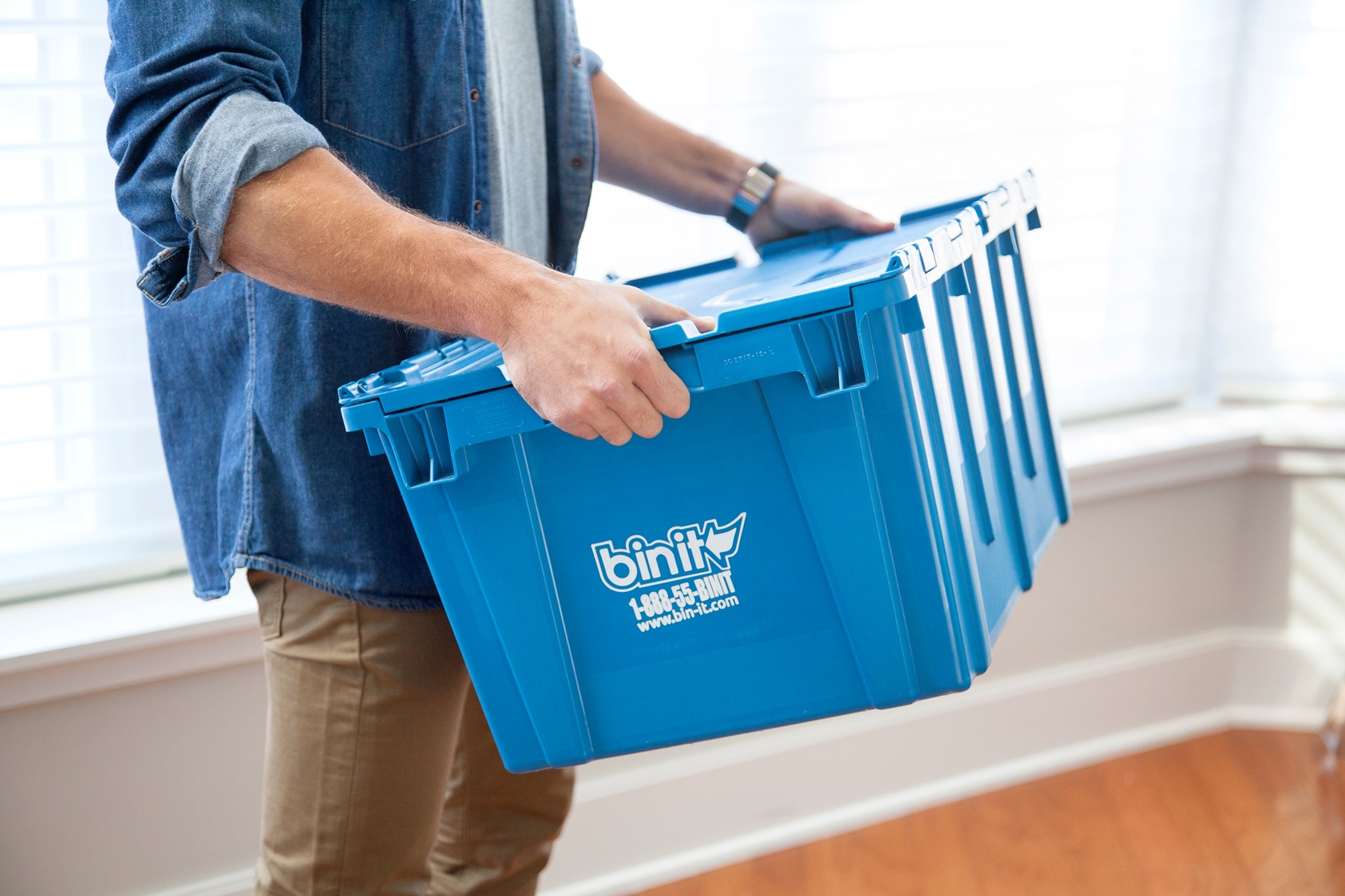 You can expect from our moving bins…
No tape needed. No Cardboard to throw out.
Balanced mix of medium and large bins in every package.
Durable, rugged, professional-grade moving boxes
Ergonomically-designed, comfort-fit handles and attached lids
Nestable and stackable boxes save space while unpacking.
You'll be Amazed at the Ease of Use!
These are so easy to fill and stack that you'll be amazed and wonder why you had never done this before. Get packing the right way, use Bin-It bins, and see what you have been missing.
Safety is our number one concern. Our bins are always sanitized after each use. This is a very environmentally safe option as these bins will be used over and over again. Unlike the cardboard box solutions, they will be recycled and won't break down over time. You'll be surprised at just how easy it is to work with our Bin-it bins!
Full Moving Company Options
Don't have the time to move the bins yourself? Maybe you need help with packing? We have worked with clients on all levels of moving from delivering the bins to your current location for free to offering customized quotes to help with your move at every step. Our bins are cheaper than cardboard and so much easier to use that you'll ask yourself why you didn't do this before. Call today or order online and see just how easy this entire process can be.
Make the smart move.
Let Bin-It lighten your load.